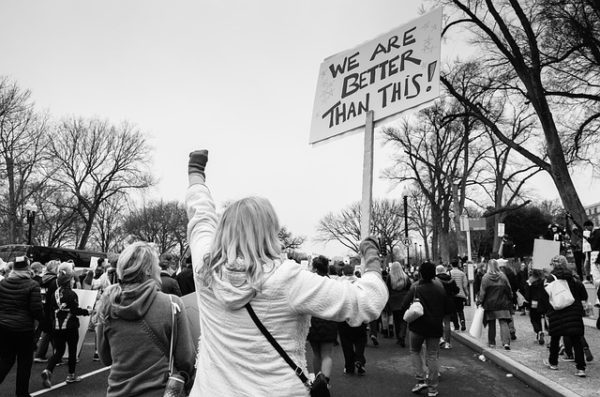 29 Sep

Love That Endures In The Trump Era

I don't know a single person who isn't exhausted by our political crisis at the moment. Everyone I know (conservative, progressive, and moderate) hopes we live for a time when we won't feel the threat of nuclear war or racially-motivated violence every day. We are grasping for strategies to preserve our mental health without disengaging from critical conversations that have enormous consequences in our communities. We are sad and tired, and we know our grief doesn't compare with the pain of those more vulnerable than ourselves, so we feel guilty about our exhaustion.

I'm embarrassed and ashamed of this, but in the midst of my anger and anxiety, I've heard myself admit to trusted friends that I don't know how to live in a close relationship with people who voted differently than me. In my defense, I caught up with my old therapist last time I was in Dallas, and she said she had an enormous spike in new clients after the election because people from all over the political spectrum needed to process trauma and fractured relationships. She's been a therapist through four elections and said she's never seen anything like it.

Almost an entire year later, I'm ready to move beyond my resentment. I had some friends over recently, and as we chatted, it occurred to me that every single one of us had family members who voted for Trump. Then I thought about some of my best friends from other cities, and each of them has family members (many that I ADORE) who voted for Trump. These are people who have sent me handwritten cards with confetti and chocolate when I've gone through tough times. They're the kind of people who, if I were to show up on their doorstep in tears at 3 AM on a Tuesday morning, would throw their arms around me and put fresh sheets on a bed for me.

I do not want to live in a world without these people.

So I spend a lot of time thinking about how we're to go on living with people who see the world from a vastly different perspective. We don't have minor differences: we disagree about policies that affect whether families are torn apart, vulnerable humans have access to healthcare, and our tax dollars are used to fund things we morally oppose. In my own life, the disagreements are about whether people I love think I am worthy of receiving communion at church or protection from discrimination as I go about my ordinary life. Figuring out how we're to love and honor one another is not an easy task.

What I keep coming back to is this: these people are every bit as compassionate and sincere as I am. We believe very different things, but it's wrong of me to assume ignorance or ill intent when their situation in life has given them reasons for believing what they do in good faith. To be clear, there are some people (Bannonites and white supremacists, among others) who unapologetically push an evil agenda. I am not talking about those people. I'm thinking of the kindhearted ones who reluctantly voted for Trump because, for reasons I don't fully understand, they felt like they had no other option.

I've tried to reflect on times when I've delighted in these people the most, and those have been moments we shared together in the flesh. I adore them when we eat green beans and mashed potatoes around the table. As we look through scrapbooks crafted by the creative ones, I see their eye for beauty and their tenderhearted longing to capture cherished memories. Those times when we witness one another, in all our humanity, I remember their political or theological views do not contain the complicated whole of who they are.

Over the next year, and hopefully my entire life, I'm committing to nurture these strained relationships. I'm not going to minimize our differences or avoid tense conversations; I'm choosing to remember they are as complex and well-intentioned as I am. I'm going to order food for them (because I can't cook) and laugh together over the latest viral videos because they are not the sum of their political and theological views. I'm going to hold their new babies and go to their kids' sports games. I'm going to team up with them when we share a concern, like helping people in poverty, because they care about the poor even if we disagree about policies that address economic inequality. This year, I'm going to try to listen without interrupting and take their concerns as seriously as I want them to take mine.

It's easy to understand our particular sympathies and motivations (which we can extend to our tribes); it's harder to remember other people also arrived at their beliefs by way of deliberation and goodwill. So I'm not going to take a vacation from distressing relationships because I don't want to live in a world without these earnest people who disagree with me. I hope that, together, we will stumble our way toward a love that bears all things, believes all things, hopes all things, endures all things.