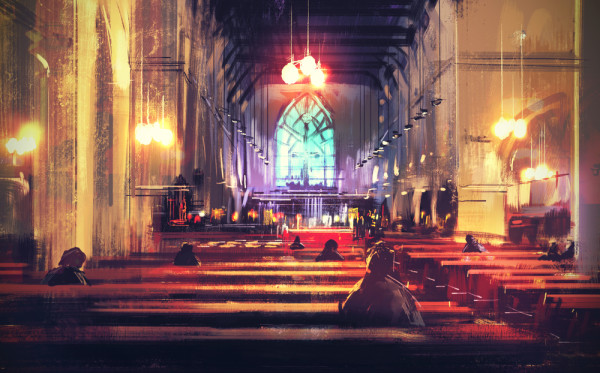 31 Mar

A Better Conversation About LGBT People In The Church

My recent conversation with Wesley Hill at City Church in San Francisco got me thinking about all things gay celibacy. Wes was one of the founders of Spiritual Friendship, a blog that hosts thoughtful gay Christians who believe marriage is between a man and a woman and lifelong celibacy is required of anyone who's not hetero married. My conversation with Wes was wonderful (super honest and respectful) and you can watch it here.

I've been wanting to write about Spiritual Friendship a while—about Wes and Eve and the community of writers who have shaped me in such positive ways over the past few years. I've also wanted to share some concerns about traditionalists who latched onto part of their message and missed the larger vision.

I understand the heart of their movement to be one that reimagines friendship and hospitality in our modern nuclear-family-obsessed Christian context. They've felt the effects of messages that made marriage the primary place to find intimacy and the entry into Being Fully Human. They urge conservative Christians to take the call to hospitality as seriously as they take the call to chastity—to commit to friendship as passionately as we commit to the family.

Me and my close friends who affirm same-sex marriage often say Spiritual Friendship's vision has made us healthier affirming gays. As we date and some marry, we see in ourselves a commitment to friendship that doesn't wane when we couple up. We note a marked difference in our love for same-sex friends vs. our love for same-sex partners (a distinction celibate gay writers often blur a bit), but we feel a sense of solidarity with them in our shared pursuit of a vision that celebrates friendship as much as we celebrate marriage. We agree that "the one" won't meet all our needs for intimacy and we hope our future spouses will share our passion for hospitality, a passion that Spiritual Friendship ignited in so many of us.

What strikes me as strange is the way many conservatives have latched onto them simply because they hold traditional views of marriage. While Spiritual Friendship's project is actually a critique of the church's obsession with the nuclear family, they're often promoted by conservatives as a group of LGBT people who defend a theology that mandates celibacy for gay people. They're a group these Christians can hold up and say: "Yes! Gays with traditional views of marriage! We're not bigots—they're saying it, too!"

While they do hold traditional views of marriage (and their belief that celibacy is required of all gay and lesbian people certainly fuels their passion for friendship), they don't spend much of their energy defending that view. They're more interested in creating a positive vision for gay Christians. They're more concerned about the significant changes the church needs to make to become the kind of community where gay people feel wanted and worthy of love.

Which is why it's so troubling that they're usually promoted as a defense of traditional marriage. When conservative Christians began to realize gay Christians exist and that we cannot change, a sense of fear swept through. And just when they thought they might have to take uncomfortable steps toward welcoming (and learning from) the LGBT Christians in their midst, they found another answer:

"CELIBACY! Yes! Why hadn't we THOUGHT of it?!"

What could be a valuable resource for people to better understand how homophobia plays out in the church is often turned into another justification to quarantine the gays.

It's not the celibacy part that's disturbing—many people will not marry and we need to right the wrong that's relegated single people to second class status in the church. The disturbing part has been the way these stories have been coopted to serve a fear-based posture toward the inclusion of LGBT people (with a range of beliefs) in all areas of the church. When I attempted to walk that path for a season, too many Christians made passing statements about how they needed me to defend traditional marriage and call all gays to celibacy because it would carry more weight if it came from a gay.

"I can't promote this view as a straight person without sounding homophobic," many would say before I spoke.

It wasn't long before I felt like my quest to create safer places for gay people in the church (along with my passion for friendship and community) was something conservatives saw as a cute part of a spiel that fought for traditional Family Values. While less than 4% of my attention went to mentioning that I leaned theologically conservative, I increasingly felt like I was participating in the oppression of already marginalized LGBT people because of the way my story was used.

There are many conservative Christians who humbly seek to learn from people like Wes because they find his vision compelling. But in my experience, there were far more whose fears sent them grasping for any new answer that might return the church to the comfortable time when they didn't have to wrestle with the possibility of vibrant same-sex couples in their communities.

The church needs to embrace and support sexual minorities who interpret Scripture through a conservative lens. But I hope the heart of their message will come through: that all gay Christians are a gift to the church and straight Christians have something to learn from us. I hope their message of friendship and hospitality will be received as a good in itself, not as a means to a conservative end. I hope they will be celebrated as a community that promotes under-valued forms of love rather than an answer people can point to in a desperate attempt to avoid considering how the Spirit might move through same-sex couples.

We need to have a better conversation about LGBT people in the church, and that will happen when we receive the whole of each side's message rather than picking out the parts that serve an agenda that was determined before the conversation started.